We went up Sunday and Monday 2/19-20 and had two great and interesting days. Both days the higher summits forecast was for a partly cloudy start, trending towards clearing, and windy. It was right about the winds but the clouds were exactly the reverse. Pretty much bluebird in the early morning, and socked in later. We got pretty early starts both days and had a good bit of sun, but it really shut down in the afternoon! Sunday, Lobster Claw was the only "low" so we took that. "Quite brushy" is probably an understatement. When we started up we had visions of the upper snowfields, but the vis in the alpine garden was a lot less than inspiring so we didn't go very high. Returned the same way.
Monday's forecast was a notch more promising than Sunday's, and indeed the clouds were about three hours later that day. Right was dropped to low so that's where we went. A mix of icy and nice snow, and a lot of wind. "Spatial variability" was a good description. Got first tracks from 2/3 of the way up, and on the second lap I did the same on the steep skiers right entrance at the top. Nice. The old surface areas seemed just a tad softened so the scoured areas between the wind buff weren't too bad.
The clouds came in just as we finished the second lap, so we headed home. Another trip done—we realized on the way home that it was seven years ago, with two eight year olds, that we first came here!
Pictures:
The crew Sunday morning. No clouds in sight!
Entering the bowl Sunday morning. Plenty of wind blowing snow around up high. We put on sunscreen and immediately the clouds swirled in.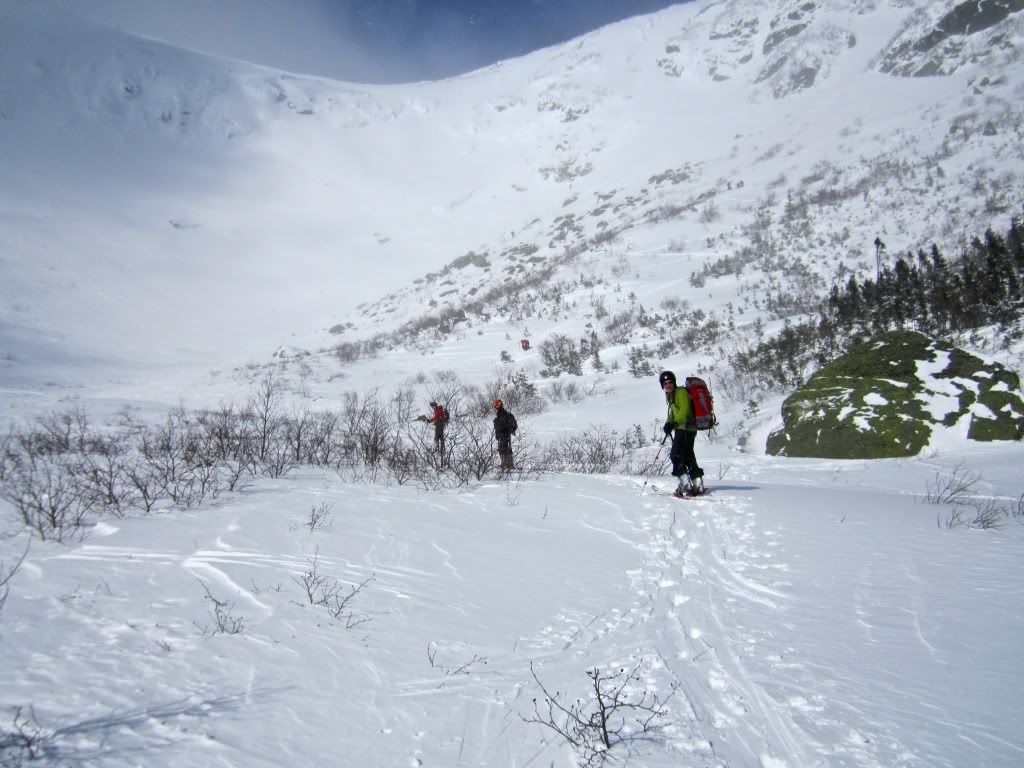 About to head up Lobster Claw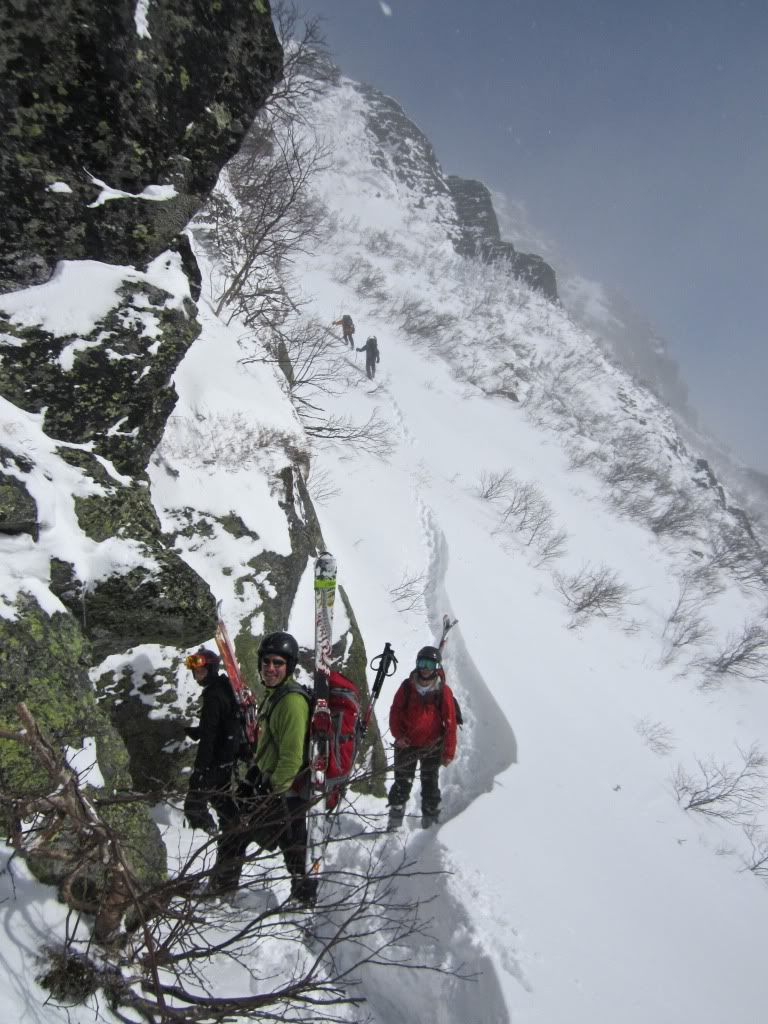 Climber's right, near the top. On the edge of the fog.
No pics from above LC. Here's looking down before we descended.
Next day, heading up Right Gully. Nice snow here, clear sky, and windy.
Looking across at the first wisp…lots of snow in the air.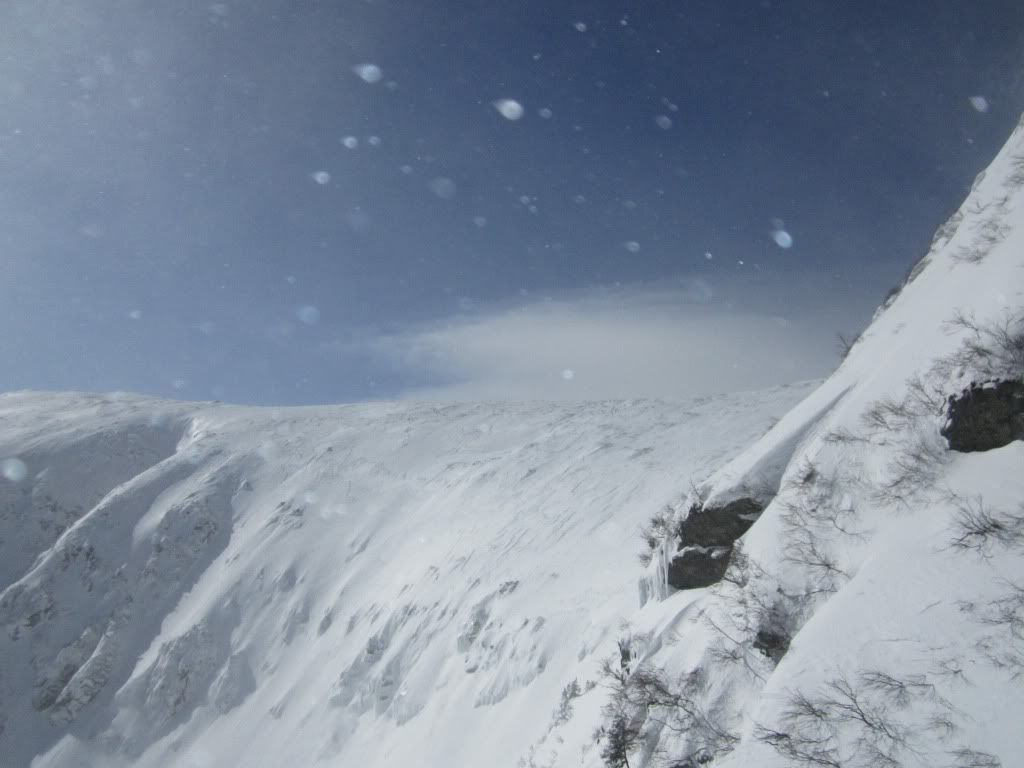 At the top of the gully. I wish I had shot one looking right down the throat from the entrance… but I didn't think to. Those first few turns were steep!
Here's what the bowl looked like as we left. What a difference the sun makes!
And here's a blast from the past…. our first trip in '05, in one of the Hermit Lake shelters. The two eight year olds: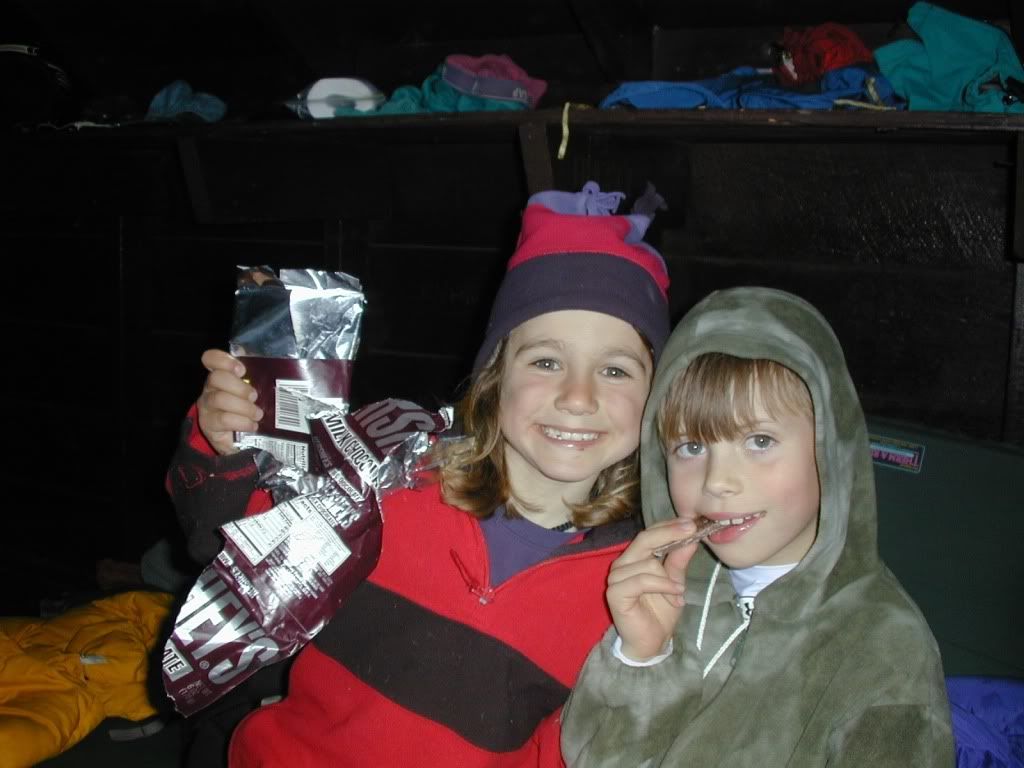 It was the beginning of a great tradition. We didn't ski the bowl much that trip. Watched the inferno hordes, went up Boott Spur, and skied the sherbie, and we've been hooked since then. The youngsters on the Boott Spur shoulder: