Scottie and I had a leisurely day in Bishop, buying last minute stuff, and searching in vain for an ice cream shop to satisfy the jones we both had for a root beer float. Word was, Denny's (!) was the only such place where one could be had. It was good. Eventually, we made our way to the Onion Valley campground at 9,200 feet, where the trail to Kearsarge Pass begins. We nabbed a killer campsite, which no picture could do justice to. Here's a crappy view, with our lemony Yaris rental car!
These things were no joke, and were dripping big gobs of clear sap everywhere (but man, did they burn nicely in the fire!):
There is clearly more than one use for a bear can:
(I had a delicious Mammoth Brewing Co. I-395, made with desert sage, mountain juniper, and locally grown hops - really unique and amazing beer)
How much of this crap should we take? um, all of it . . .
The hike to Charlotte Dome is a bearish 12-mile affair, wherein you gain 2500 feet of elevation up to Kearsarge Pass, only to give it all back on the other side, down to Charlotte Lake, and then onward to Charlotte Dome. Boy did the packs get heavy . . . . Hiking in:
Cresting Kearsarge Pass:
Looking west toward King's Canyon from the Pass:
More hiking:
Cool trees:
Finally, we spotted Charlotte Dome!
Approaching the Dome:
On the slopes heading up to the (not so) "secret" climber's bivy site, we encountered this gigantic pine - the grooves in the bark were 3-4" deep, and would have made great handholds for climbing it! I'd bet this tree was better older than the Nation itself, probably well over 200 years old:
On the hike in, we met Dave and Deb, a first-class couple, both retired Marines, and avid climbers. We shared the (not so) "secret" campsite with them, and really enjoyed their company. The campsite was da bomb! Nice flat ground for the tent, a large fire ring, a clean running stream not 40 yards away, and plenty of firewood everywhere. This is the only pic we took, and it was actually taken the morning we were leaving, after Dave and Deb had already struck their tent:
The climb. I don't know what I can say . . . it was nothing short of spectacular. Well-deserving of its place in Steck & Roper's "50 Classic Climbs." Every pitch was magnificent. Here goes - the start of the route:
Scottie approaching the P2 belay (note the slung chickenhead!)
Scottie way down low in the sea of granite on Pitch 4:
Scottie approaching the P4 belay:
Me coming up the 5.7 lieback flake on Pitch 5:
Scottie following "The Slot" crux pitch:
and nearing the belay:
Scottie leading the "more strenuous than hard" (ha!) 5.8 "chimney-type feature":
Scottie following the "40' runout" Pitch 9 (there were no 40' runouts! thank God! more like 15'-20'):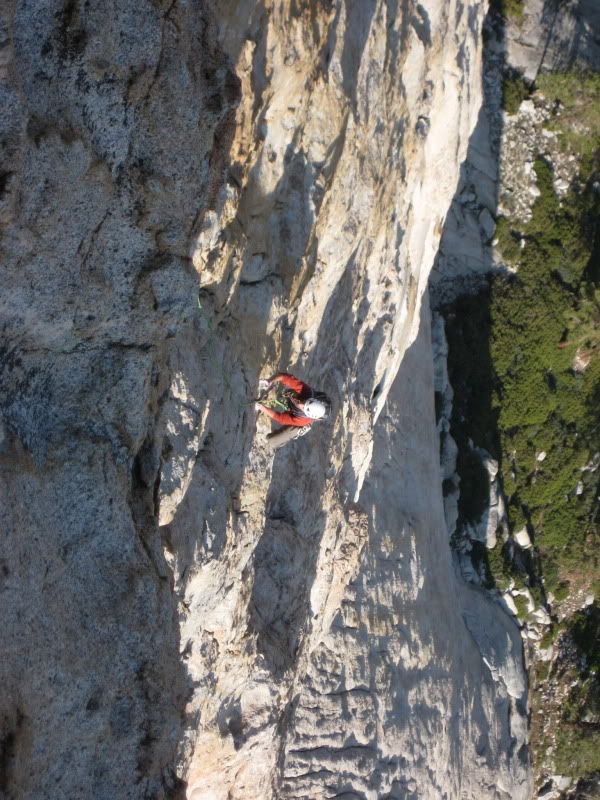 (i can't get this picture to right itself! it's actually rotated, but for some reason during the upload re-rotates!)
I ended up, inadvertently really, linking the last 3 pitches into just two. I finished the friction pitch and headed right up The Furrows, staying on climber's left, until I'd nearly run out of rope, when I noticed a large, comfortable ledge about 15 feet below me and to my left. I worked my way over there, and we FINALLY had a good belay ledge to relax on (most of the belays are seriously uncomfortable, hanging-type belays). I then headed back up The Furrows, again staying far left, and wound up missing the 5.4 P11 corner altogether, but just continuing up on the crazy fun features of the furrows, until I ran out of rope just as I reached the large belay/bivy ledge at the base of the final, Gold Fins pitch. Scottie got to lead the Gold Fins. Me topping out:
What I hadn't mentioned until now is that the winds had picked up considerably throughout the day, the temps were in the mid-high 40's, and some very ominous clouds had steadily moved in over the course of several hours:
But they never found their way over to us on the Dome. Looks like they stuck to the higher elevations, thankfully (and reportedly dropped a dusting of snow on Tioga Pass).
Summit shots - me:
Scottie:
Once again, for lack of bringing a copy of the guidebook page describing and depicting the descent, we got off-route again on this one! The short verson is this: we stayed right, found a rap sling, rapped, found another rap sling, rapped, found another rap sling this time with about 400' of fixed rope on it with lots of knots to pass (where the rope was frayed, torn or cut) that ended with a biner on a bight, which necessitated another rap on our rope, which landed us nowhere, so we had to leave a couple pieces (nut, tricam) to make our own rap anchor, which eventually got us to down-climbable terrain. Our campsite partners, Dave and Deb, concerned about our absence in camp after dark, hiked up the talus to ask how we were doing, and lighted the way with their headlamps to the descent trail - very nice of them and much appreciated!
We scarfed down our freeze-dried meals (better than any 5-star meal I've ever had), and rested up for the LONG hike out. Next morning, the moon still lay over Charlotte Dome:
And thus endeth the trip and this trip report. Except to say that it was a simply amazing experience in perhaps the most beautiful place I've been to date. King's Canyon is just unreal. The hike out to the Dome was just one spectacular scene after another, and really helped to mitigate the pain of carrying a heavy pack so far for so long. If you ever thought of doing this climb, don't delay -- it's superlative beyond words!