Me and one of my normal hike/ski partners headed up to the Mt Washington Valley on Friday to fool around and mebbe squeeze in a few turns (based on recent trip reports and avy advisories we were expecting boilerplate and were just happy to get out - but hey still beats the crap out of work right)
We had made a reservation at the Gorham Motor Inn which kind of interfered with our last minute decision that Oakes would probably the best for turns that day. So we stayed @ GMI and headed for tux the following AM - He had never seen it in person (it would be only my second time there) and as anyone in the area yesterday knows it was GORGEOUS day.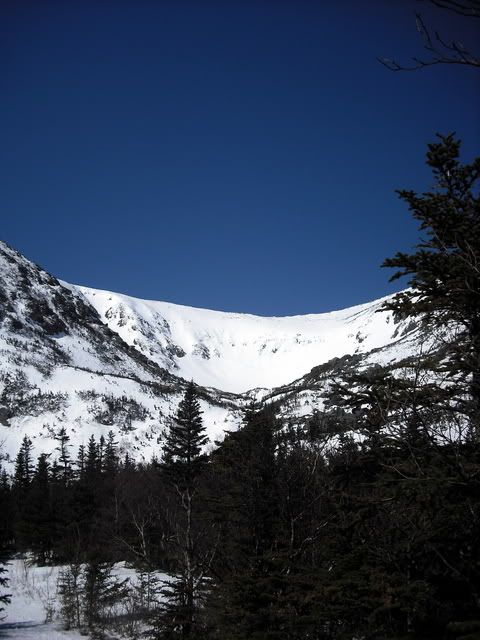 Skinning up the trail was -- umm interesting?
A great empirical study in what sun does to snow. Short glides and good posture were essential. As a snowboarder turned splitboarder I will avoid booting/carrying at all costs and I will attempt to skin over gravel and glare ice rather than carrying my splitboard.
Me @ Hojos looking like Dieter from sprockets in this shot: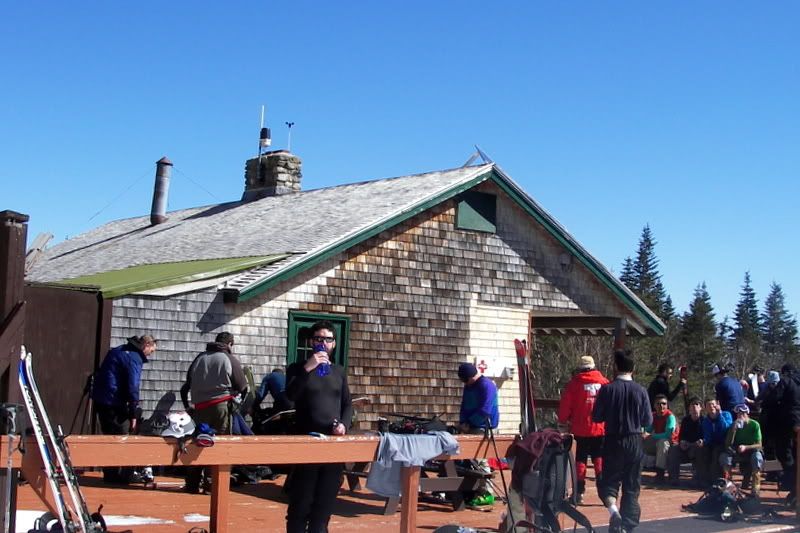 Switched to crampons for the hike up the the floor of the bowl.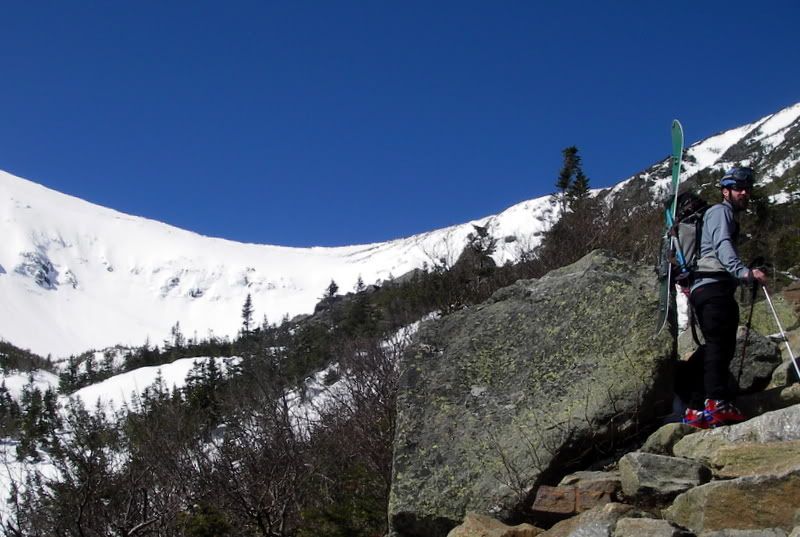 Caught views of some unbelievable skiers ripping down Chute on the way up - Sorry no pics.
Removed
@ Lunch rocks for the hike up the sluice fearing cartwheel time due to the hard pack and used my ice axe and whippet to get up there.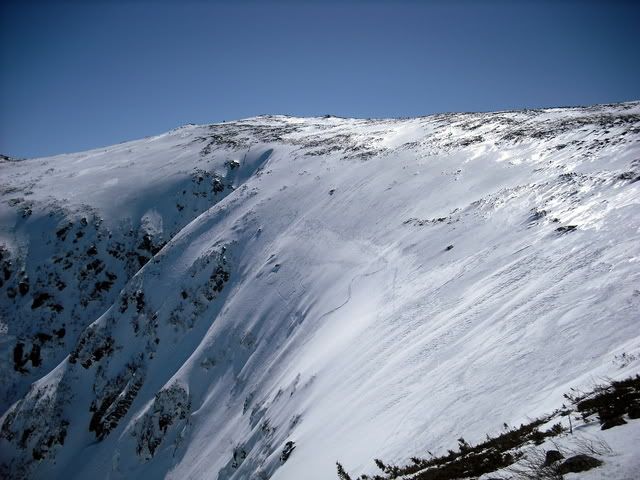 Came over the lip and was able to make a couple jump turns, followed by sliding on my ass for three hundred feet,
followed by a few more turns
. An acute embarrassment.
Where is the smiley for snowboarders sliding on their butt and pushing all the snow down the hill?
I felt a little better after watching the next 6 or so snowboarders slide down on their butts for 600 feet and make one or two turns. Something about the angle/snow made it difficult/impossible to actually transition into a heel side turn rather than heel side extended butt slide.
I intend to put together a sped up video of myself ascending the sluice, then descending the lip half on my butt in a slough of half frozen corn chunks and death cookies to the tune of vivaldi's winter - stay tuned.
Sherbie was a good time. Some ice / some corn / good coverage top to bottom.
2/2 for cloudless days @ tux. Somethin has gotta give.
-Will